2018 Boys & Girls Club of Kenosha Youth of the Year: Ja'len Webster
The Boys & Girls Club of Kenosha would like to proudly introduce and congratulate our 2018 Youth of the Year, Ja'len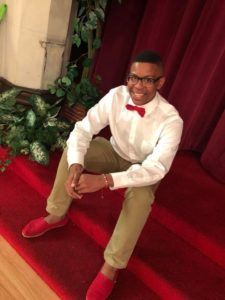 Webster.
Ja'len has been a member of the Boys & Girls Club since he was 6 years old. Ja'len is currently a sophomore at Bradford High School. Over the years the Club has become a vital part of his success and development inside and outside of the classroom and has helped him to lead a safe and positive life.
"As the 2018 Boys & Girls Club of Kenosha's Youth of the Year,  I hope to positively influence my fellow peers and the community of Kenosha to follow my lead and to better ourselves, schools, and the community. I hope to create or add to a diverse community program that is geared to make our society a better place for everyone. I ultimately hope that I will make the BGCK proud of me and inspire future teen Club members to follow in my footsteps." –Ja'len Webster
In school, Ja'len is a standout student and role model. He is currently excelling in school taking some honors/AP courses and is someone his teachers can depend on to go the extra mile to help them as well as his cohorts. Ja'len is active in the community. He serves as a Youth Pastor of his church and has volunteered over 200 hours of service to the Boys & Girls Club of Kenosha, as well as, at other local places in town over the past year.
Ja'len, like so many teens like him, has gone through his ups and downs and through it all he is continuing to persevere due to his passion for success and will to be great. At the Club, Ja'len is a standout Club member and enjoys various programs, such as, Power Hour, Street Smarts, and Keystone Club. He is a natural born leader at the Club and when he graduates high school he plans to attend Morehouse College.
Through Ja'len's time at the Club he has gained lifetime friends and mentors, has learned life-enhancing skills, and was given the tools to help him fulfill his future vision for his success.