2021 Boys & Girls Club of Kenosha Youth of the Year: Armon Harris
The Boys & Girls Club of Kenosha would like to proudly introduce and congratulate our 2021 Youth of the Year, Armon Harris.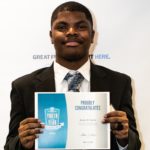 Below is an excerpt from Armon's Youth of the Year Speech on his experience at the Boys & Girls Club of Kenosha and what the Club means to him.
My name is Armon Harris and I am the 2020 and 2021 Youth of the Year for the Boys and Girls Club of Kenosha. This fall, I will be attending Carthage College on a full-tuition scholarship.
Have you ever asked yourself, who am I?  For a long time I asked myself that very same question. In life, youth have a lot of obstacles, some in the way of their dreams and some their goals. But, a wise person once told me it's not about how you fall down it's about how you get up. Our bruises and wounds turn into our testimonies and stories so here's my story.
My biggest obstacle was finding my purpose and my identity. With the setback of different statistics that society has already set specifically for African-American males, but I realized that my life says otherwise. I really don't want this to be a race thing, but unfortunately in today's society it's the truth. Only about 60% of African-American males earn a high school diploma. That means 4 out of 10 drop out before graduation day. I promise you that I will be part of the 60% who make it.
One thing I understand is that the only thing that no one can take away from you is your knowledge and your education. As I started to mature, I understood that was a major obstacle that I overcame as a young African-American male.
At first I didn't know who I was, and then I was invited to come to the Boys and Girls Club. I started off coming only a couple times a week and was unsure if it was a place for me. However, as more opportunities and more programs opened up I started attending regularly and it was the best decision I ever made.
After attending for a while, the Club staff asked me to volunteer as a junior staff and then later recommended that I also join the Summer Youth employment program. As I began in the program, we were put into classes which taught us employment skills which helped me get a permanent job at the Boys & Girls Club where I currently work each day.
In this this role, I work with young children with different backgrounds and some different stories to tell. As a mentor it gives me a wider perspective of how to deal with different situations. Through my leadership skills I developed at the club, I am now the first ever student dean at Harborside Academy. In that role I help different students improve in and their academics, but in addition to that, I help certain students with behavioral problems.
As I continue to be a mentor at the Boys and Girls Club, it has given me more confidence in volunteering at my church. On Sundays every month, I am given an opportunity to preach to young people that I mentor. One of my big topics that I minister on is purpose and identity. Philippians 4:13 says that I can do all things through Christ who strengthens me.
So I minister that no matter what happens you can do anything that you put your mind to. I am able to do this because the club gives me the opportunity to empower young people each and every day. I've always envisioned that one day young people can dream to be whatever they would like to be without anyone shooting them down and telling them that they can't do it. … THAT'S MY VISION FOR AMERICA'S YOUTH.