Johnson Financial Group, the parent company of Johnson Bank and Johnson Insurance Services, reached out to the Boys & Girls Club of Kenosha as their employees volunteered their time and efforts at the club on Tuesday, May 17. The volunteer effort was part of Johnson's annual Community Service Day, entitled SERVICE DAY EVERYDAY!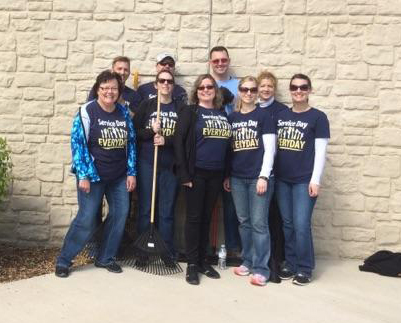 "The Boys & Girls Club of Kenosha is thankful to Johnson Bank, their affiliates, and all of their employees for helping out in this way," said Jake McGhee, Chief Executive Officer of the Boys & Girls Club of Kenosha. "Like all nonprofits, the Boys & Girls Club needs volunteers like these to assure that we can give maximum programming value through our operating budget. Every one of these employees who helped out is making a valuable contribution to the club's ability to continue to offer programs that work for Kenosha children."
"I believe the greatest gift we can give to our communities is our people, not just dollars," said Tom Bolger, CEO of Johnson Financial Group. "Our Service Day is only one example of the impact our people make on the community throughout the year. Hundreds of our associates proudly volunteer thousands of hours annually."
Approximately 900 Johnson employees participated in the annual Service Day on May 17 in communities throughout Wisconsin and Arizona. Besides the Boys & Girls Club of Kenosha, they were at local food banks in southeastern Wisconsin and Habitat for Humanity in northwestern Wisconsin. In total, the Johnson employees volunteered at more than 65 charities in communities they live and serve in.
"Johnson Financial Services has always been one of the club's major supporters," McGhee stated. "They were with us back at the first location, the Madrigrano center in the Wilson neighborhood. They continue to support and encourage us today as we reach an ever-increasing number of Kenosha children."
The Boys & Girls Club of Kenosha is a youth guidance organization dedicated to promoting health, social, educational, vocational, cultural, character and leadership development. The club helps youth improve their lives by building skills, values and self-esteem in order to prevent potential gang involvement and alcohol and/or drug abuse.